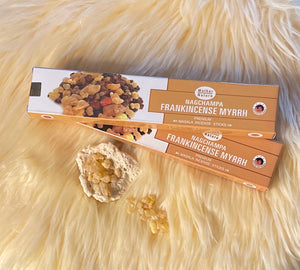 Comes with approximately 10-12 (15gm) hand rolled incense sticks 
??? What is Frankincense: gum resins that come from Boswalian trees.  Essentially dried sap.
You may be familiar with the Bible story where baby Jesus received these as gifts.

useful for calming and tension relief, and many other benefits (do your own research)
 💫Keep out of reach of children,pets. NEVER leave incense burning unattended ashes should fall in a fire safe dish, tray, or holder.